NEWS
HISTORY IS STILL BEING WRITTEN
20 May 2019
HISTORY IS STILL BEING WRITTEN ...
WATCHMAKER TO THE ROYAL NAVY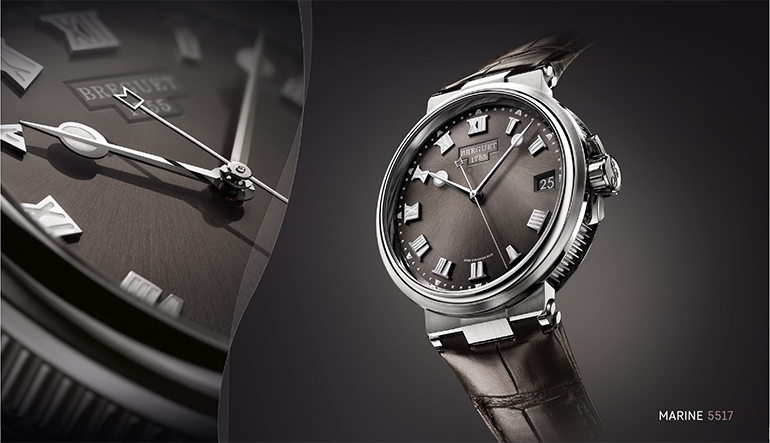 Abraham-Louis Breguet took an early interest in all fields of horology, and notably that of marine chronometry. On December 10th 1814, a royal decree officially appointed him a member of the Bureau des Longitudes in Paris, a body that included astronomers, geophysicists and physicists.
On October 27th 1815, Abraham-Louis Breguet was named ''Watchmaker to the Royal Navy" by Louis XVIII, king of France. This title was the most prestigious to which a horologist could aspire, given that the very notion of maritime watchmaking called for outstanding knowledge and excellent scientific skills. The relations between Breguet and the Navy were to continue unabated. Official orders flowed in during the founder's lifetime, under the subsequent company leadership of son Antoine-Louis, across the entire 19th century and right the way through to the 1960s.
Today, the timepieces in the Breguet La Marine collection pay tribute to the title awarded to Abraham-Louis Breguet as well as to this long lineage of marine chronometers. The new creations feature a resolutely modern style combining elegance and sportiness. They reinterpret Breguet's cesthetic codes while perpetuating the maritime spirit.

Extending an authentic invitation to travel, exploration and discovery, Breguet La Marine collection appears for the first time with a case version in titanium - a material that is both particularly light and resistant to salty air - framing a sunburst slate grey dial. The models come in various guises featuring details inspired by the maritime world. The redesigned fluted pattern and the central lug, a new characteristic of the line, instil a contemporary and dynamic spirit. Delicately wave-shaped guards frame the crown adorned with the Breguet initial. History is still being written ...
On chronograph.am we use cookies. By using this site, you are accepting our
Cookie Policy